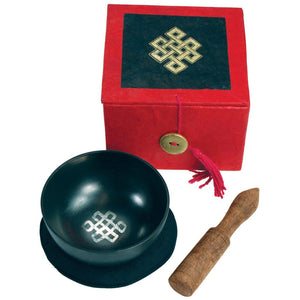 The Endless Knot is an ancient symbol that represents the inter-connectedness of all things and the constant interplay of wisdom and compassion.
This beautiful meditation bowl measures 3 inches in diameter and comes with striker, cushion, and instructions for a simple meditation. The meditation bowl arrives in a handcrafted gift box, made with sustainably harvested Himalayan lokta paper on top of a recycled paper board.

Fair trade and ethically made. Care instructions included with purchase.